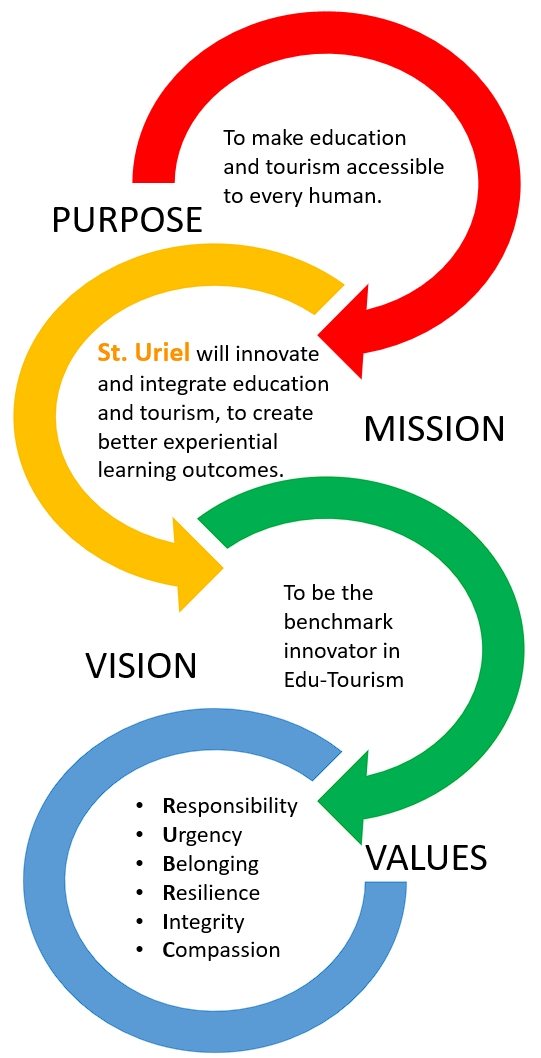 About Us
Preparing students of today for the opportunities of tomorrow!
St. Uriel Education Pte Ltd ("STU") is a "boutique" Singapore based leading Edtech, Education Experiences and Education Pathways provider with presence in SE Asia, and China. Apart from our in-house developed platforms, curriculum, school exchange programs, we're also a distributor and operator of OSSD education pathways with partner schools in Singapore, Malaysia and Thailand.
Our in-house developed Student Exchange Platform (SXP), Classroom-in-a-Box (CIB), and Learning Management System (LMS) combines with distributed products to offer partner resellers plenty of value-added education solutions that they can deliver to schools and training centres all over the world. Our unique solutions cut across the Education, Technology and Tourism industries, allowing us to provide cutting-edge solutions to both education/technology resellers and travel agencies.
We further differentiate through in-house developed Curriculum which is benchmarked against the Next Generation Science Standards (NGSS), and which includes Global Competencies as required by PISA 2018, Values and Lifeskills.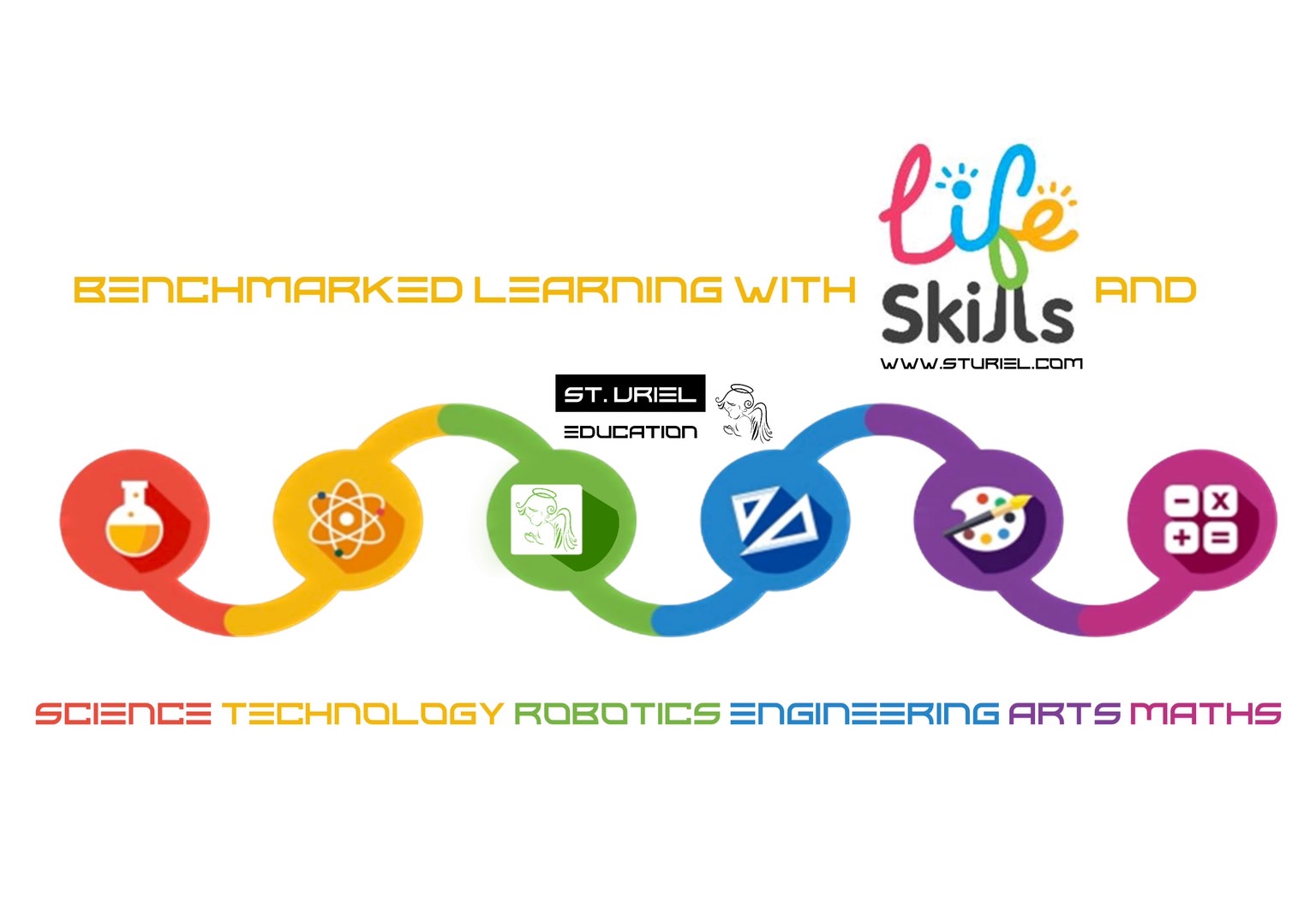 Innovating Education Globally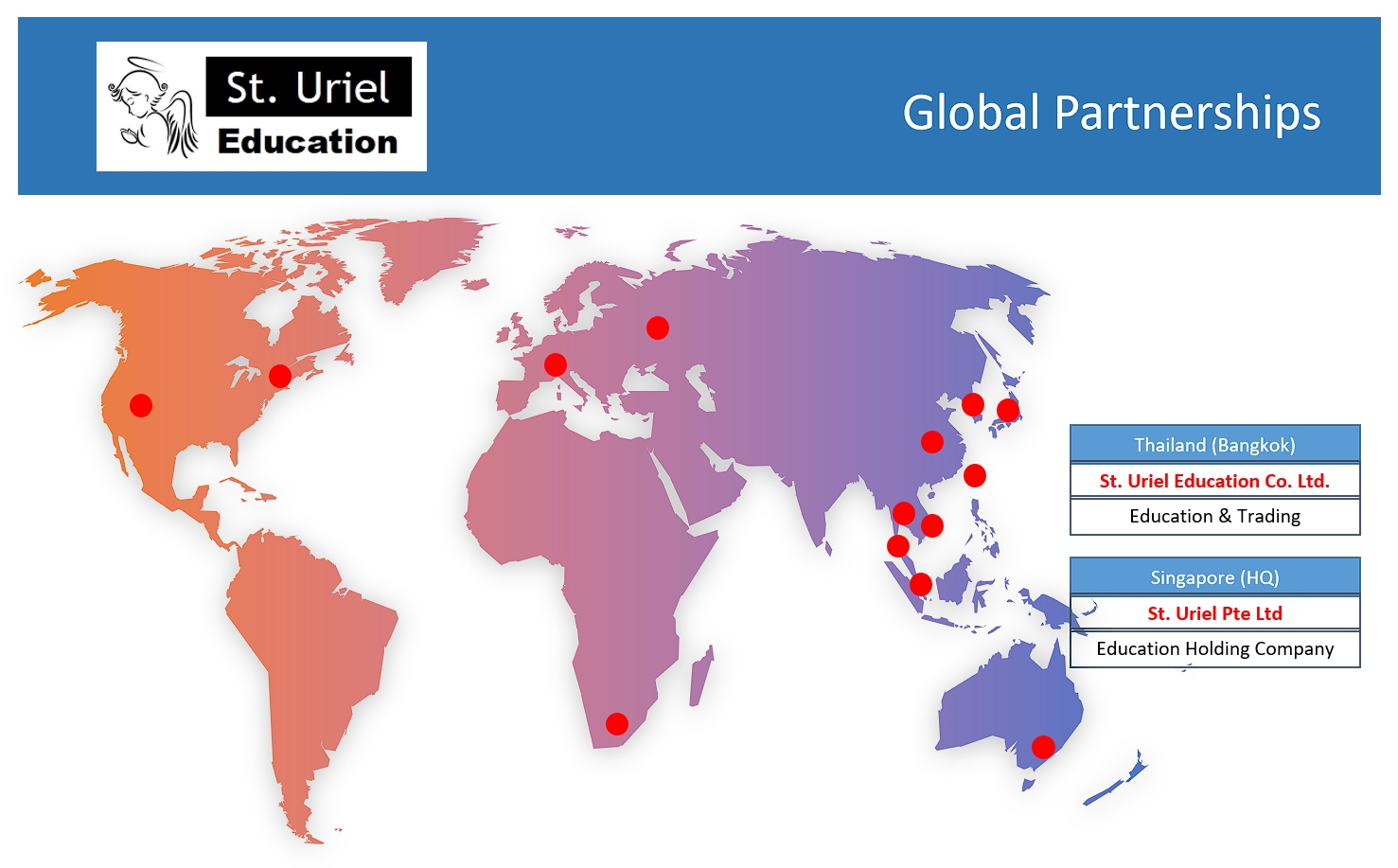 Brand Presentation
Singapore EduTech, Singapore EduTour, Singapore EduTech & EduTour, Singapore EduTech and MetaTour, Singapore Robotics, Singapore Coding, Singapore AI, Singapore VR, Singapore Virtual Reality, Singapore Metaverse, Singapore Thymio, Singapore R2T2, Singapore Sphero, Singapore 3Doodler, Singapore Varwin, Singapore Singapore LittleBits, Singapore Nibiru, Singapore RVR, Singapore Bolt, Singapore Taptilo, Singapore Scratch coding, Singapore Blockly coding, Singapore Python coding, Singapore Foodbot, Singapore STREAM Education, Singapore STEAM Education, Singapore STEM Education, Singapore Virtual Exchange, Singapore Student Exchange, Singapore Metaverse Tour, Singapore EduTech, Singapore EduTour, Singapore EduTech & EduTour, Singapore EduTech and MetaTour, Singapore Robotics, Singapore Coding, Singapore AI, Singapore VR, Singapore Virtual Reality, Singapore Metaverse, Singapore Thymio, Singapore R2T2, Singapore Sphero, Singapore 3Doodler, Singapore Varwin, Singapore Singapore LittleBits, Singapore Nibiru, Singapore RVR, Singapore Bolt, Singapore Taptilo, Singapore Scratch coding, Singapore Blockly coding, Singapore Python coding, Singapore Foodbot, Singapore STREAM Education, Singapore STEAM Education, Singapore STEM Education, Singapore Virtual Exchange, Singapore Student Exchange, Singapore Metaverse Tour, Singapore EduTech, Singapore EduTour, Singapore EduTech & EduTour, Singapore EduTech and MetaTour, Singapore Robotics, Singapore Coding, Singapore AI, Singapore VR, Singapore Virtual Reality, Singapore Metaverse, Singapore Thymio, Singapore R2T2, Singapore Sphero, Singapore 3Doodler, Singapore Varwin, Singapore Singapore LittleBits, Singapore Nibiru, Singapore RVR, Singapore Bolt, Singapore Taptilo, Singapore Scratch coding, Singapore Blockly coding, Singapore Python coding, Singapore Foodbot, Singapore STREAM Education, Singapore STEAM Education, Singapore STEM Education, Singapore Virtual Exchange, Singapore Student Exchange, Singapore Metaverse Tour, Singapore EduTech, Singapore EduTour, Singapore EduTech & EduTour, Singapore EduTech and MetaTour, Singapore Robotics, Singapore Coding, Singapore AI, Singapore VR, Singapore Virtual Reality, Singapore Metaverse, Singapore Thymio, Singapore R2T2, Singapore Sphero, Singapore 3Doodler, Singapore Varwin, Singapore Singapore LittleBits, Singapore Nibiru, Singapore RVR, Singapore Bolt, Singapore Taptilo, Singapore Scratch coding, Singapore Blockly coding, Singapore Python coding, Singapore Foodbot, Singapore STREAM Education, Singapore STEAM Education, Singapore STEM Education, Singapore Virtual Exchange, Singapore Student Exchange, Singapore Metaverse Tour
Singapore EduTech, Singapore EduTour, Singapore EduTech & EduTour, Singapore EduTech and MetaTour, Singapore Robotics, Singapore Coding, Singapore AI, Singapore VR, Singapore Virtual Reality, Singapore Metaverse, Singapore Thymio, Singapore R2T2, Singapore Sphero, Singapore 3Doodler, Singapore Varwin, Singapore Singapore LittleBits, Singapore Nibiru, Singapore RVR, Singapore Bolt, Singapore Taptilo, Singapore Scratch coding, Singapore Blockly coding, Singapore Python coding, Singapore Foodbot, Singapore STREAM Education, Singapore STEAM Education, Singapore STEM Education, Singapore Virtual Exchange, Singapore Student Exchange, Singapore Metaverse Tour, Singapore EduTech, Singapore EduTour, Singapore EduTech & EduTour, Singapore EduTech and MetaTour, Singapore Robotics, Singapore Coding, Singapore AI, Singapore VR, Singapore Virtual Reality, Singapore Metaverse, Singapore Thymio, Singapore R2T2, Singapore Sphero, Singapore 3Doodler, Singapore Varwin, Singapore Singapore LittleBits, Singapore Nibiru, Singapore RVR, Singapore Bolt, Singapore Taptilo, Singapore Scratch coding, Singapore Blockly coding, Singapore Python coding, Singapore Foodbot, Singapore STREAM Education, Singapore STEAM Education, Singapore STEM Education, Singapore Virtual Exchange, Singapore Student Exchange, Singapore Metaverse Tour, Singapore EduTech, Singapore EduTour, Singapore EduTech & EduTour, Singapore EduTech and MetaTour, Singapore Robotics, Singapore Coding, Singapore AI, Singapore VR, Singapore Virtual Reality, Singapore Metaverse, Singapore Thymio, Singapore R2T2, Singapore Sphero, Singapore 3Doodler, Singapore Varwin, Singapore Singapore LittleBits, Singapore Nibiru, Singapore RVR, Singapore Bolt, Singapore Taptilo, Singapore Scratch coding, Singapore Blockly coding, Singapore Python coding, Singapore Foodbot, Singapore STREAM Education, Singapore STEAM Education, Singapore STEM Education, Singapore Virtual Exchange, Singapore Student Exchange, Singapore Metaverse Tour, Singapore EduTech, Singapore EduTour, Singapore EduTech & EduTour, Singapore EduTech and MetaTour, Singapore Robotics, Singapore Coding, Singapore AI, Singapore VR, Singapore Virtual Reality, Singapore Metaverse, Singapore Thymio, Singapore R2T2, Singapore Sphero, Singapore 3Doodler, Singapore Varwin, Singapore Singapore LittleBits, Singapore Nibiru, Singapore RVR, Singapore Bolt, Singapore Taptilo, Singapore Scratch coding, Singapore Blockly coding, Singapore Python coding, Singapore Foodbot, Singapore STREAM Education, Singapore STEAM Education, Singapore STEM Education, Singapore Virtual Exchange, Singapore Student Exchange, Singapore Metaverse Tour
St Uriel Singapore, St. Uriel Singapore, St. Uriel Education Singapore, St Uriel Education Singapore, St Uriel Singapore Edtech, St Uriel Singapore Edutech, St Uriel Singapore EduTour, St Uriel Singapore Education Tours, St Uriel Singapore Metaverse, St Uriel Singapore Metaverse Tours, St Uriel Singapore MetaTour, St Uriel Singapore MetaTours, St Uriel Singapore Virtual Edtech, St Uriel Singapore Online Edtech, St Uriel Singapore China, St Uriel Singapore China EduTour, St Uriel Singapore China EduTours, St Uriel Singapore China Metaverse, St Uriel Singapore China Student Tours, St Uriel Singapore China Education Tours, St Uriel Singapore China Tourism, St Uriel Singapore China Edtech, St Uriel Singapore China EduTech, St Uriel Singapore China Exchange, St Uriel Singapore China Cultural Exchange, St Uriel Singapore China Education Exchange, St Uriel Singapore China Schools, St Uriel Singapore China Study in Singapore, St Uriel Singapore China O Levels, St Uriel Singapore China school system, St Uriel Singapore, St. Uriel Singapore, St. Uriel Education Singapore, St Uriel Education Singapore, St Uriel Singapore Edtech, St Uriel Singapore Edutech, St Uriel Singapore EduTour, St Uriel Singapore Education Tours, St Uriel Singapore Metaverse, St Uriel Singapore Metaverse Tours, St Uriel Singapore MetaTour, St Uriel Singapore MetaTours, St Uriel Singapore Virtual Edtech, St Uriel Singapore Online Edtech, St Uriel Singapore Malaysia, St Uriel Singapore Malaysia EduTour, St Uriel Singapore Malaysia EduTours, St Uriel Singapore Malaysia Metaverse, St Uriel Singapore Malaysia Student Tours, St Uriel Singapore Malaysia Education Tours, St Uriel Singapore Malaysia Tourism, St Uriel Singapore Malaysia Edtech, St Uriel Singapore Malaysia EduTech, St Uriel Singapore Malaysia Exchange, St Uriel Singapore Malaysia Cultural Exchange, St Uriel Singapore Malaysia Education Exchange, St Uriel Singapore Malaysia Schools, St Uriel Singapore Malaysia Study in Singapore, St Uriel Singapore Malaysia O Levels, St Uriel Singapore Malaysia school system, St Uriel Singapore, St. Uriel Singapore, St. Uriel Education Singapore, St Uriel Education Singapore, St Uriel Singapore Edtech, St Uriel Singapore Edutech, St Uriel Singapore EduTour, St Uriel Singapore Education Tours, St Uriel Singapore Metaverse, St Uriel Singapore Metaverse Tours, St Uriel Singapore MetaTour, St Uriel Singapore MetaTours, St Uriel Singapore Virtual Edtech, St Uriel Singapore Online Edtech, St Uriel Singapore Thailand, St Uriel Singapore Thailand EduTour, St Uriel Singapore Thailand EduTours, St Uriel Singapore Thailand Metaverse, St Uriel Singapore Thailand Student Tours, St Uriel Singapore Thailand Education Tours, St Uriel Singapore Thailand Tourism, St Uriel Singapore Thailand Edtech, St Uriel Singapore Thailand EduTech, St Uriel Singapore Thailand Exchange, St Uriel Singapore Thailand Cultural Exchange, St Uriel Singapore Thailand Education Exchange, St Uriel Singapore Thailand Schools, St Uriel Singapore Thailand Study in Singapore, St Uriel Singapore Thailand O Levels, St Uriel Singapore Thailand school system, St Uriel Singapore, St. Uriel Singapore, St. Uriel Education Singapore, St Uriel Education Singapore, St Uriel Singapore Edtech, St Uriel Singapore Edutech, St Uriel Singapore EduTour, St Uriel Singapore Education Tours, St Uriel Singapore Metaverse, St Uriel Singapore Metaverse Tours, St Uriel Singapore MetaTour, St Uriel Singapore MetaTours, St Uriel Singapore Virtual Edtech, St Uriel Singapore Online Edtech, St Uriel Singapore Indonesia, St Uriel Singapore Indonesia EduTour, St Uriel Singapore Indonesia EduTours, St Uriel Singapore Indonesia Metaverse, St Uriel Singapore Indonesia Student Tours, St Uriel Singapore Indonesia Education Tours, St Uriel Singapore Indonesia Tourism, St Uriel Singapore Indonesia Edtech, St Uriel Singapore Indonesia EduTech, St Uriel Singapore Indonesia Exchange, St Uriel Singapore Indonesia Cultural Exchange, St Uriel Singapore Indonesia Education Exchange, St Uriel Singapore Indonesia Schools, St Uriel Singapore Indonesia Study in Singapore, St Uriel Singapore Indonesia O Levels, St Uriel Singapore Indonesia school system, St Uriel Singapore, St. Uriel Singapore, St. Uriel Education Singapore, St Uriel Education Singapore, St Uriel Singapore Edtech, St Uriel Singapore Edutech, St Uriel Singapore EduTour, St Uriel Singapore Education Tours, St Uriel Singapore Metaverse, St Uriel Singapore Metaverse Tours, St Uriel Singapore MetaTour, St Uriel Singapore MetaTours, St Uriel Singapore Virtual Edtech, St Uriel Singapore Online Edtech, St Uriel Singapore Vietnam, St Uriel Singapore Vietnam EduTour, St Uriel Singapore Vietnam EduTours, St Uriel Singapore Vietnam Metaverse, St Uriel Singapore Vietnam Student Tours, St Uriel Singapore Vietnam Education Tours, St Uriel Singapore Vietnam Tourism, St Uriel Singapore Vietnam Edtech, St Uriel Singapore Vietnam EduTech, St Uriel Singapore Vietnam Exchange, St Uriel Singapore Vietnam Cultural Exchange, St Uriel Singapore Vietnam Education Exchange, St Uriel Singapore Vietnam Schools, St Uriel Singapore Vietnam Study in Singapore, St Uriel Singapore Vietnam O Levels, St Uriel Singapore Vietnam school system