First China-Singapore Student Exchange Online!
SXP Synchronous and Asynchronous Learning Activities
Chinese students watch the introduction video of Singapore students
Singapore student co-host introduces her school
Students exchange opinions with their local perspectives
Students exchange opinions with their local perspectives
Interaction between teachers and students in different schools
The world's first & leading Student eXchange Platform (SXP)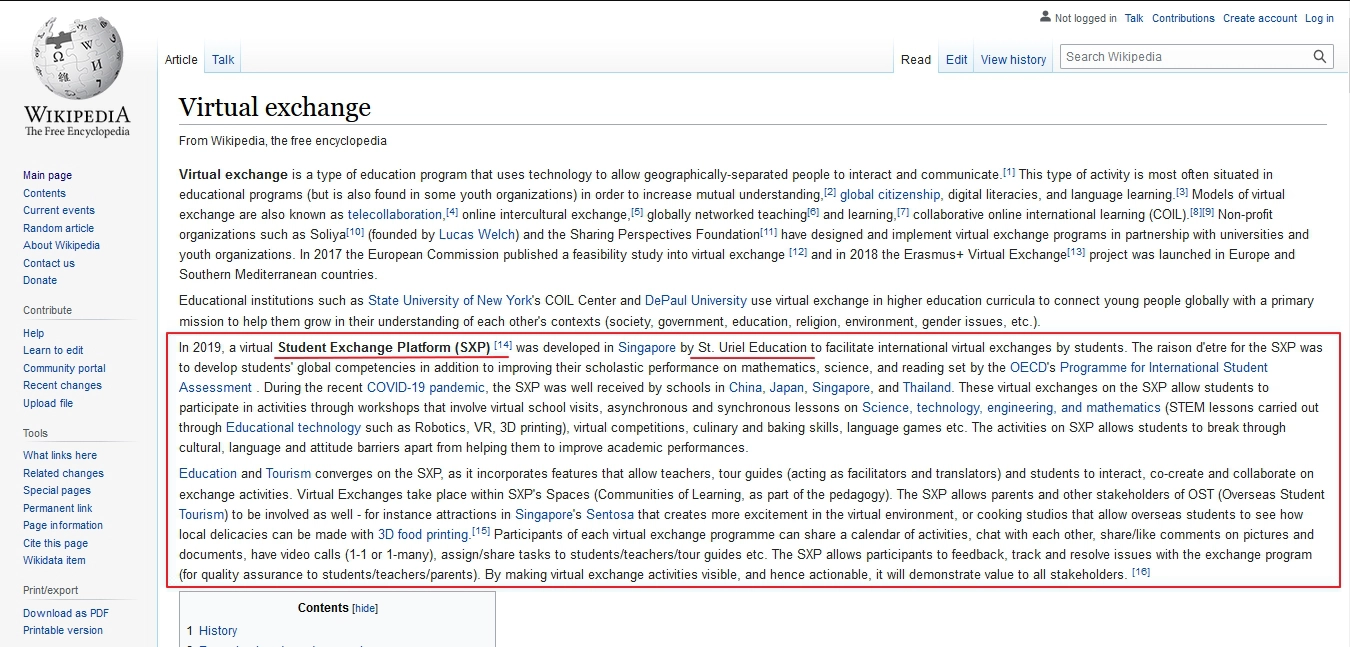 Wikipedia: https://en.wikipedia.org/wiki/Virtual_exchange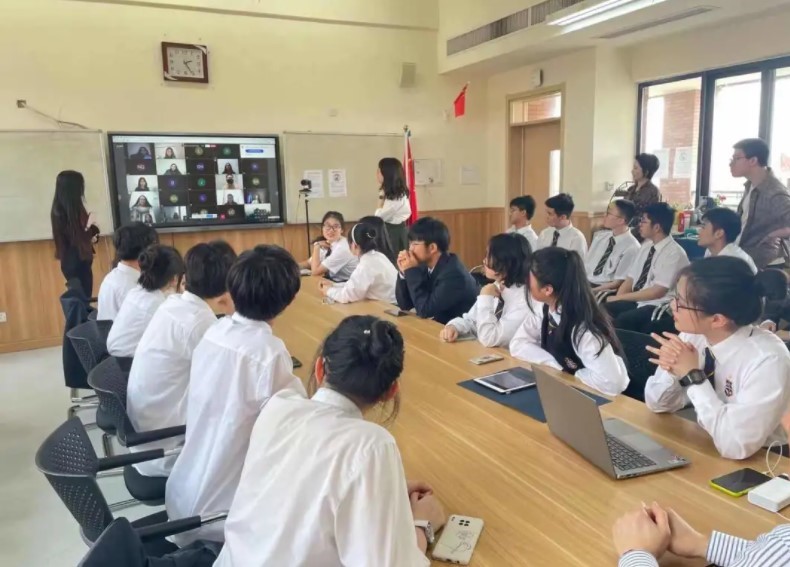 In 2019, a virtual Student Exchange Platform (SXP) was developed in Singapore by St. Uriel Education to facilitate international virtual exchanges by students. The raison d'etre for the SXP was to develop students' global competencies in addition to improving their scholastic performance on mathematics, science, and reading set by the OECD's Programme for International Student Assessment.
During the recent COVID-19 pandemic, the SXP was well received by schools in China, Japan, Singapore, and Thailand. These virtual exchanges on the SXP allow students to participate in activities through workshops that involve virtual school visits, asynchronous and synchronous lessons on Science, technology, engineering, and mathematics (STEM lessons carried out through Educational technology such as Robotics, VR, 3D printing), virtual competitions, culinary and baking skills, language games etc. The activities on SXP allows students to break through cultural, language and attitude barriers apart from helping them to improve academic performances.
Education and Tourism converges on the SXP, as it incorporates features that allow teachers, tour guides (acting as facilitators and translators) and students to interact, co-create and collaborate on exchange activities. Virtual Exchanges take place within SXP's Spaces (Communities of Learning, as part of the pedagogy). The SXP allows parents and other stakeholders of OST (Overseas Student Tourism) to be involved as well – for instance attractions in Singapore's Sentosa that creates more excitement in the virtual environment, or cooking studios that allow overseas students to see how local delicacies can be made with 3D food printing.
Participants of each virtual exchange programme can share a calendar of activities, chat with each other, share/like comments on pictures and documents, have video calls (1-1 or 1-many), assign/share tasks to students/teachers/tour guides etc. The SXP allows participants to feedback, track and resolve issues with the exchange program (for quality assurance to students/teachers/parents). By making virtual exchange activities visible, and hence actionable, it will demonstrate value to all stakeholders.
Details of the China-Singapore online student exchange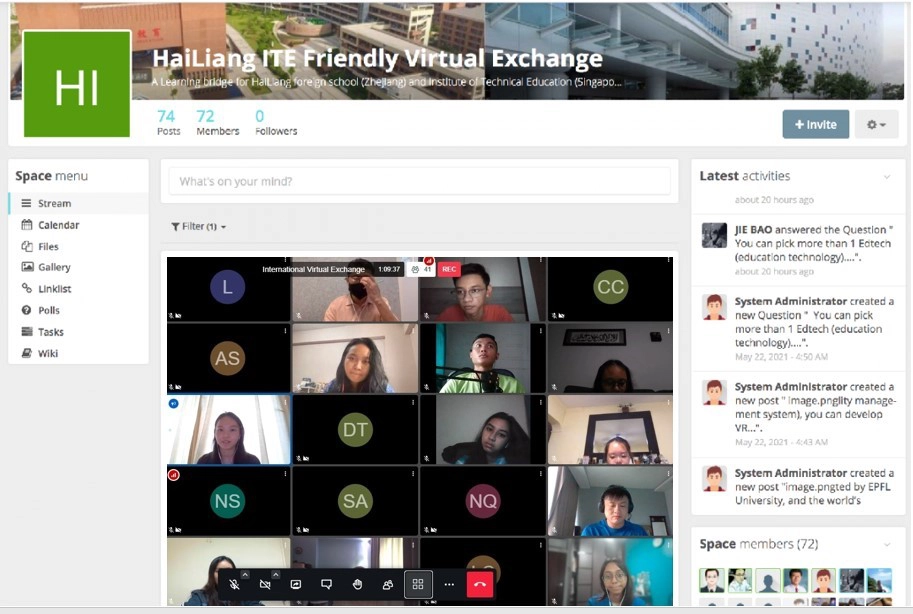 Students experience synchronous and asynchronous learning activities on the SXP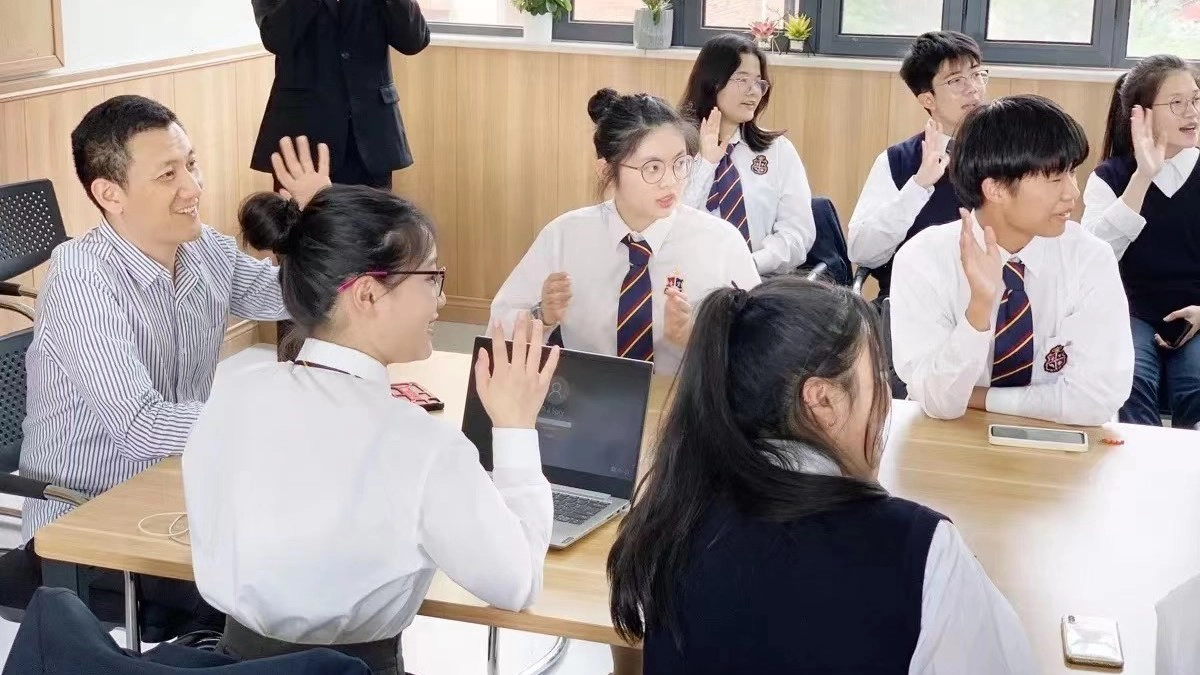 Chinese college teachers and students wave hello to Singapore friends
China-Singapore Friendship
On May 21st 2021, the "China-Singapore Online International Student Exchange" was jointly organized by St. Uriel Education and Hailiang Education Group. In this live online exchange, nearly 80 teachers and students from Hailiang foreign language school in Zhejiang and Singapore's ITE (Institute of Technical Education) gathered on the SXP to have a unique remote dialogue in English.
The students first showed their school to the friends on the other end of the screen, introduced the situation of study and life, and expressed their opinions and asked each other the characteristics and advantages of China and Singapore in terms of economy, culture, tourism, education, etc. They conducted in-depth discussions respectively, thinking rationally and dialectically about the similarities and differences between the two countries.
After several weeks of careful planning and preparation, the students were eager to try this international exchange opportunity. Under the active mobilization of the hosts of the teachers and students from China and Singapore, everyone was not cautious or embarrassed at all even across the screen. They actively participated and spoke in fluent English, and the audience burst into relaxed and happy laughter from time to time.
Teachers and students from both sides had a key discussion on the measures taken by China and Singapore to prevent and control the Covid-19, and respectively described the changes brought by the pandemic to their lives, their experience of studying at home etc., and reminded each other to ventilate frequently, wash hands frequently, and pay attention to safety and health.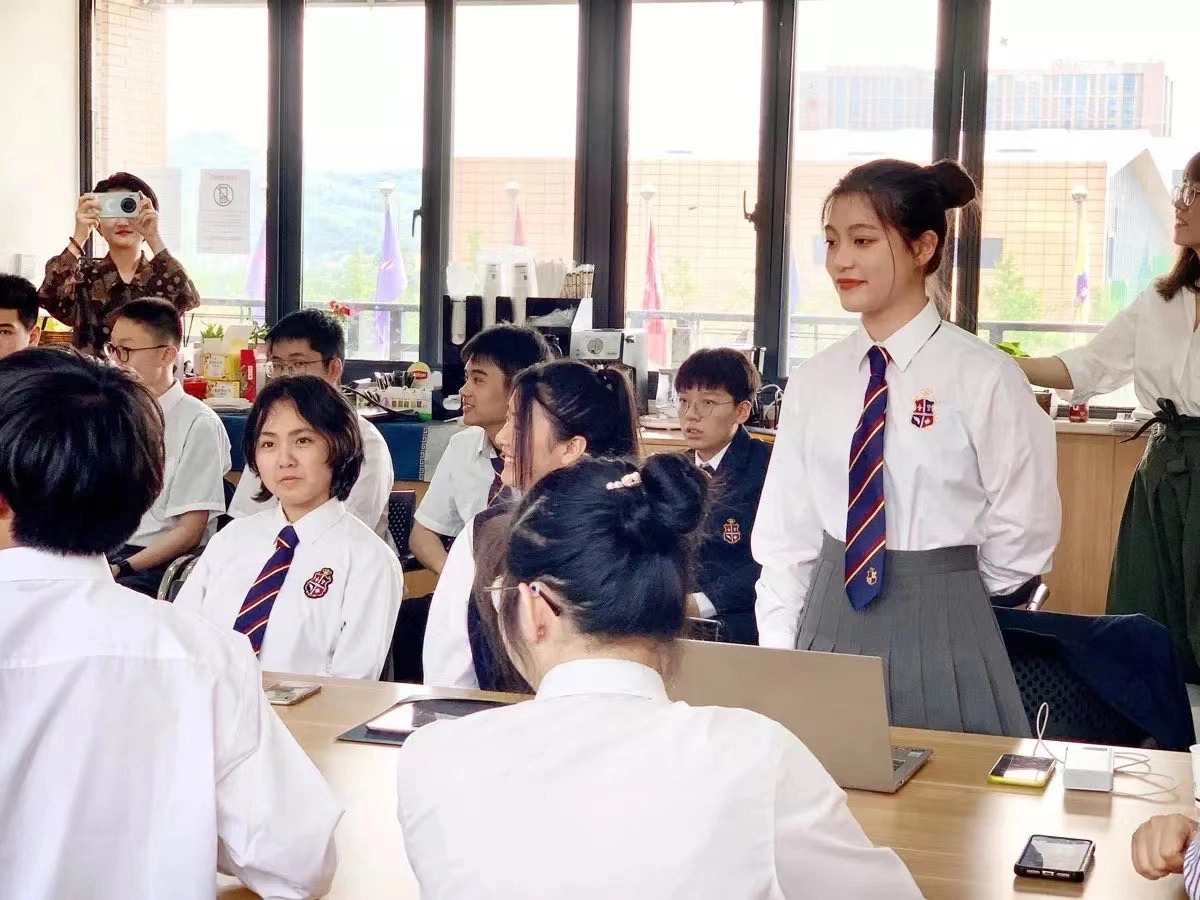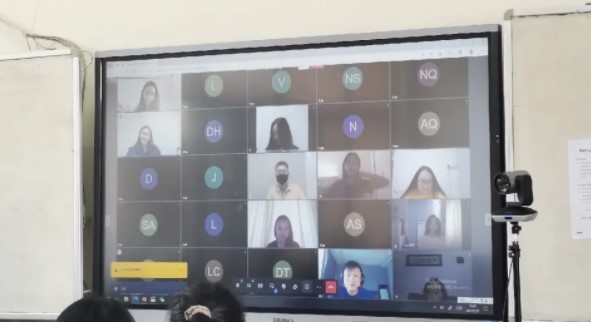 Some Singapore teachers and students who participated in the exchange
When discussing the issue of "Which word would you use to describe your country?", many Chinese college students chose the word "united" unanimously, expressing their deep appreciation for China's efforts to combat the pandemic. Proud to be united and highly appreciated by teachers and students in Singapore.
Due to the pandemic in Singapore, ITE teachers and students have to isolate themselves at home, connect online, participate in activities alone, and even wear masks. Chinese college students feel the same enthusiasm for international exchanges from their friends thousands of miles away, and they are also encouraged. At the end of the event, teachers and students of Chinese foreign language schools sent their best wishes in English to Singapore teachers and students: "The pandemic will eventually pass, please pay more attention to your health, and welcome to China in the future"!
An international exchange platform that does not close
Although the online live event has come to an end, the international exchange of students from the two countries is still going on. On the SXP, students log in to their "personal space" one after another, and put the bits and pieces of life and learning specially established for the international exchange of the two schools. Photos, video recordings (Vlog), posts, forwarding, voting… In this all-English space, students recorded and shared their day at school, selfies, favorite foods, idol information, Hometown scenery, interesting subject topics, etc., and comment and thumbs-up the content.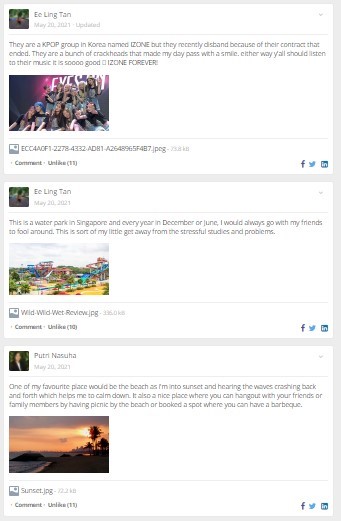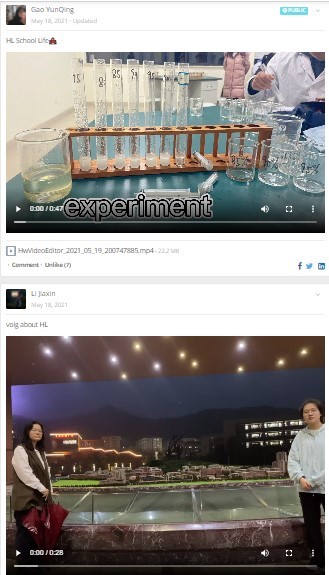 In just a few days, more than 70 pieces of information were posted on the small forum, and the number of interactions exceeded 400 times. At the exchange event, teachers and students from China and Singapore also asked each other about the content of interest.
Students such as Nurin and Amirah from ITE in Singapore shared their favorite picnic spots, favorite K-pop music groups and local specialties, which aroused strong interest among Chinese college students. Chinese students such as Spry and Yunqing shared short video taken by themselves. They introduced the beautiful scenery of Hailiang campuses, interesting things about experimental courses, etc.
At present, SXP has been used by many schools in China, Singapore, Japan and other countries. This novel form of student interaction is considered to be a very potential way of future inter-school international online communication and is widely recognized.
Ye Ziyi, head of the International Region of Educational Research in China for Hailiang, said, "SXP not only provides a convenient, safe, diversified but systematic virtual space for students to interact online, but also imitates social interaction. The form of posting in the media makes full use of the hobbies and interests of today's teenagers to enhance students' interactive participation and learning satisfaction. This allows international exchanges and language learning to be better integrated into the lives of students."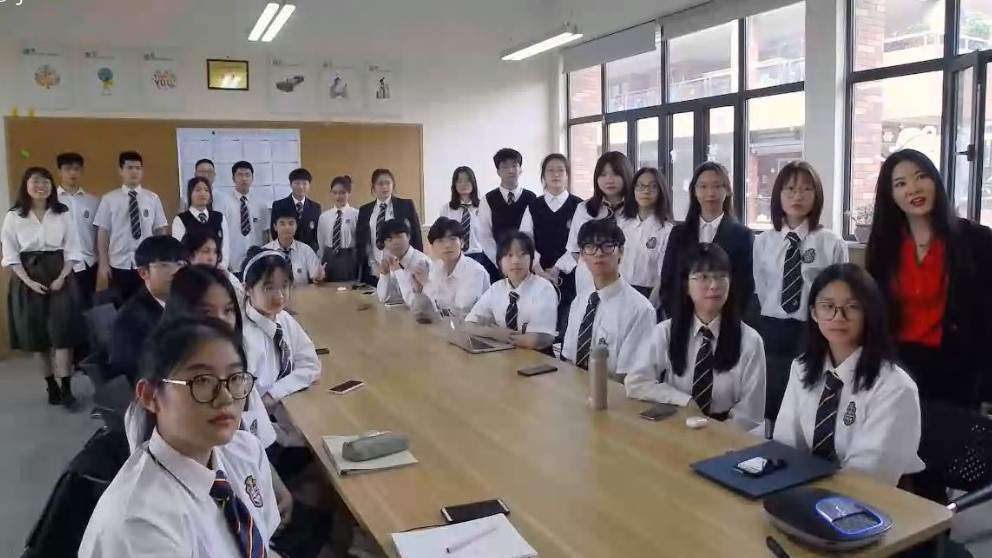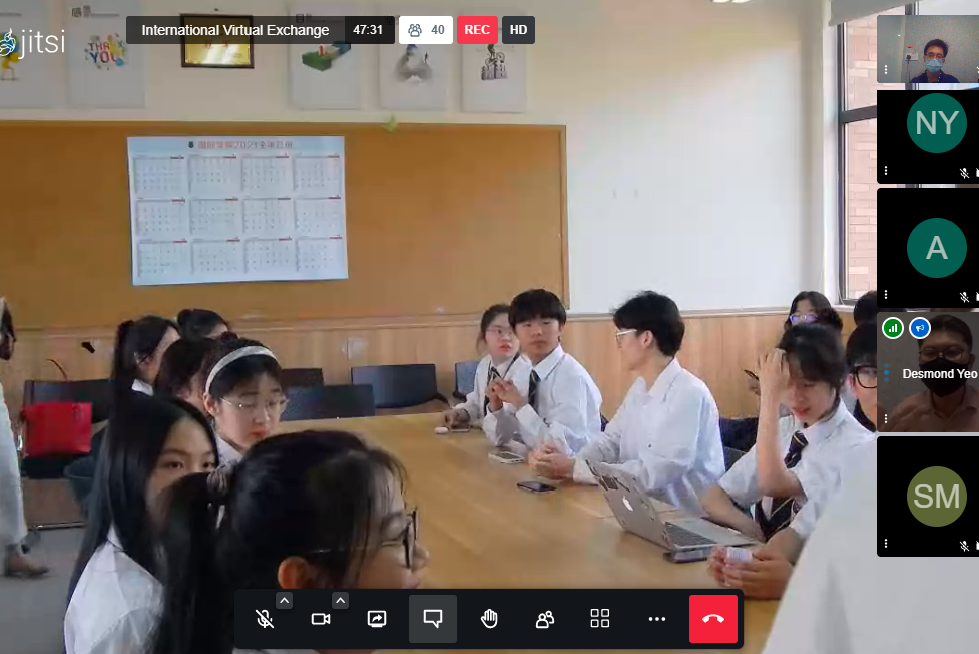 Online student exchanges will become the norm
With the normalization of the pandemic, online communication has also become an important form of international communication and research in the near future.
"Due to the pandemic, students cannot go abroad, so they are looking forward to and attaching great importance to this rare online communication opportunity. They have made full preparations for each question, and actively participated in the interaction of the forum. I believe that they have learned from this experience, I myself have learned a lot at the same time," said Bao Jie, head of the English teaching and research group at the International School of the School of Foreign Languages ​​in Hailiang.
The methods and contents of online international exchange are rich and diverse, and combine the advantageous resources of various parties to create online international research activities with good effect and good experience for students.
In this China-Singapore exchange, Hailiang invited its partner, Singapore's outstanding education company, St. Uriel Education, to introduce the current "latest and hottest" online research topics in Singapore. VR virtual reality, drones, robot programming, 3D printing and other high-quality "STREAM" (science, technology, robotics, engineering, art, mathematics) courses and activities and it has opened the eyes of the students.
In his speech at the event, the principal of Hailiang's International Foreign Language Schools in said that he was very happy that the teachers and students of both sides had enhanced the understanding between China and Singapore, and strengthened the friendship between China and Singapore through this exchange. "STREAM" and other high-quality content organically combine online learning with offline practice, helping students to further broaden their horizons and improve their abilities.
This innovative international live broadcast has attracted the attention of many media such as Singapore and Thailand.
Online Student Exchange, Virtual Student Exchange, Online Education Exchange, Online Cultural Exchange, Virtual Cultural Exchange, Singapore Student Exchange, Singapore China Student Exchange, Singapore Thailand Student Exchange, Education Exchange, Cultural Exchange, Metaverse Exchange, Singapore Metaverse School, Singapore Metaverse Education, Singapore Virtual Reality, Singapore China Virtual Reality, Singapore Augmented Reality, Singapore AR VR, Singapore Virtual Tour, Online Student Exchange, Virtual Student Exchange, Online Education Exchange, Online Cultural Exchange, Virtual Cultural Exchange, Singapore Student Exchange, Singapore China Student Exchange, Singapore Thailand Student Exchange, Education Exchange, Cultural Exchange, Metaverse Exchange, Singapore Metaverse School, Singapore Metaverse Education, Singapore Virtual Reality, Singapore China Virtual Reality, Singapore Augmented Reality, Singapore AR VR, Singapore Virtual Tour, Online Student Exchange, Virtual Student Exchange, Online Education Exchange, Online Cultural Exchange, Virtual Cultural Exchange, Singapore Student Exchange, Singapore China Student Exchange, Singapore Thailand Student Exchange, Education Exchange, Cultural Exchange, Metaverse Exchange, Singapore Metaverse School, Singapore Metaverse Education, Singapore Virtual Reality, Singapore China Virtual Reality, Singapore Augmented Reality, Singapore AR VR, Singapore Virtual Tour, Online Student Exchange, Virtual Student Exchange, Online Education Exchange, Online Cultural Exchange, Virtual Cultural Exchange, Singapore Student Exchange, Singapore China Student Exchange, Singapore Thailand Student Exchange, Education Exchange, Cultural Exchange, Metaverse Exchange, Singapore Metaverse School, Singapore Metaverse Education, Singapore Virtual Reality, Singapore China Virtual Reality, Singapore Augmented Reality, Singapore AR VR, Singapore Virtual Tour
Global EduTour, Singapore EduTour, Asia EduTour, Singapore Tours & Holidays, Singapore Student Tours, Singapore Guided Student Tour, Singapore Virtual Tours, Singapore Metaverse Tours, St. Uriel Tour, St. Uriel Student Exchange, St. Uriel Virtual Tours, St. Uriel Singapore Tours, St. Uriel Singapore Student Exchange, St. Uriel Global Tours, St. Uriel Singapore EduTour, St. Uriel School Tours, St. Uriel Schools Exchange, St. Uriel Singapore online school exchange, St. Uriel Singapore Tourism Board, St. Uriel Tourism Magazine, St. Uriel Singapore Tourism Media, St. Uriel STREAM Tour, St. Uriel Singapore STEM Tour, St. Uriel MetaTours, Global EduTour, Singapore EduTour, Asia EduTour, Singapore Tours & Holidays, Singapore Student Tours, Singapore Guided Student Tour, Singapore Virtual Tours, Singapore Metaverse Tours, St. Uriel Tour, St. Uriel Student Exchange, St. Uriel Virtual Tours, St. Uriel Singapore Tours, St. Uriel Singapore Student Exchange, St. Uriel Global Tours, St. Uriel Singapore EduTour, St. Uriel School Tours, St. Uriel Schools Exchange, St. Uriel Singapore online school exchange, St. Uriel Singapore Tourism Board, St. Uriel Tourism Magazine, St. Uriel Singapore Tourism Media, St. Uriel STREAM Tour, St. Uriel Singapore STEM Tour, St. Uriel MetaTours, Global EduTour, Singapore EduTour, Asia EduTour, Singapore Tours & Holidays, Singapore Student Tours, Singapore Guided Student Tour, Singapore Virtual Tours, Singapore Metaverse Tours, St. Uriel Tour, St. Uriel Student Exchange, St. Uriel Virtual Tours, St. Uriel Singapore Tours, St. Uriel Singapore Student Exchange, St. Uriel Global Tours, St. Uriel Singapore EduTour, St. Uriel School Tours, St. Uriel Schools Exchange, St. Uriel Singapore online school exchange, St. Uriel Singapore Tourism Board, St. Uriel Tourism Magazine, St. Uriel Singapore Tourism Media, St. Uriel STREAM Tour, St. Uriel Singapore STEM Tour, St. Uriel MetaTours, Global EduTour, Singapore EduTour, Asia EduTour, Singapore Tours & Holidays, Singapore Student Tours, Singapore Guided Student Tour, Singapore Virtual Tours, Singapore Metaverse Tours, St. Uriel Tour, St. Uriel Student Exchange, St. Uriel Virtual Tours, St. Uriel Singapore Tours, St. Uriel Singapore Student Exchange, St. Uriel Global Tours, St. Uriel Singapore EduTour, St. Uriel School Tours, St. Uriel Schools Exchange, St. Uriel Singapore online school exchange, St. Uriel Singapore Tourism Board, St. Uriel Tourism Magazine, St. Uriel Singapore Tourism Media, St. Uriel STREAM Tour, St. Uriel Singapore STEM Tour, St. Uriel MetaTours, Global EduTour, Singapore EduTour, Asia EduTour, Singapore Tours & Holidays, Singapore Student Tours, Singapore Guided Student Tour, Singapore Virtual Tours, Singapore Metaverse Tours, St. Uriel Tour, St. Uriel Student Exchange, St. Uriel Virtual Tours, St. Uriel Singapore Tours, St. Uriel Singapore Student Exchange, St. Uriel Global Tours, St. Uriel Singapore EduTour, St. Uriel School Tours, St. Uriel Schools Exchange, St. Uriel Singapore online school exchange, St. Uriel Singapore Tourism Board, St. Uriel Tourism Magazine, St. Uriel Singapore Tourism Media, St. Uriel STREAM Tour, St. Uriel Singapore STEM Tour, St. Uriel MetaTours, Global EduTour, Singapore EduTour, Asia EduTour, Singapore Tours & Holidays, Singapore Student Tours, Singapore Guided Student Tour, Singapore Virtual Tours, Singapore Metaverse Tours, St. Uriel Tour, St. Uriel Student Exchange, St. Uriel Virtual Tours, St. Uriel Singapore Tours, St. Uriel Singapore Student Exchange, St. Uriel Global Tours, St. Uriel Singapore EduTour, St. Uriel School Tours, St. Uriel Schools Exchange, St. Uriel Singapore online school exchange, St. Uriel Singapore Tourism Board, St. Uriel Tourism Magazine, St. Uriel Singapore Tourism Media, St. Uriel STREAM Tour, St. Uriel Singapore STEM Tour, St. Uriel MetaTours, Global EduTour, Singapore EduTour, Asia EduTour, Singapore Tours & Holidays, Singapore Student Tours, Singapore Guided Student Tour, Singapore Virtual Tours, Singapore Metaverse Tours, St. Uriel Tour, St. Uriel Student Exchange, St. Uriel Virtual Tours, St. Uriel Singapore Tours, St. Uriel Singapore Student Exchange, St. Uriel Global Tours, St. Uriel Singapore EduTour, St. Uriel School Tours, St. Uriel Schools Exchange, St. Uriel Singapore online school exchange, St. Uriel Singapore Tourism Board, St. Uriel Tourism Magazine, St. Uriel Singapore Tourism Media, St. Uriel STREAM Tour, St. Uriel Singapore STEM Tour, St. Uriel MetaTours, Global EduTour, Singapore EduTour, Asia EduTour, Singapore Tours & Holidays, Singapore Student Tours, Singapore Guided Student Tour, Singapore Virtual Tours, Singapore Metaverse Tours, St. Uriel Tour, St. Uriel Student Exchange, St. Uriel Virtual Tours, St. Uriel Singapore Tours, St. Uriel Singapore Student Exchange, St. Uriel Global Tours, St. Uriel Singapore EduTour, St. Uriel School Tours, St. Uriel Schools Exchange, St. Uriel Singapore online school exchange, St. Uriel Singapore Tourism Board, St. Uriel Tourism Magazine, St. Uriel Singapore Tourism Media, St. Uriel STREAM Tour, St. Uriel Singapore STEM Tour, St. Uriel MetaTours, Global EduTour, Singapore EduTour, Asia EduTour, Singapore Tours & Holidays, Singapore Student Tours, Singapore Guided Student Tour, Singapore Virtual Tours, Singapore Metaverse Tours, St. Uriel Tour, St. Uriel Student Exchange, St. Uriel Virtual Tours, St. Uriel Singapore Tours, St. Uriel Singapore Student Exchange, St. Uriel Global Tours, St. Uriel Singapore EduTour, St. Uriel School Tours, St. Uriel Schools Exchange, St. Uriel Singapore online school exchange, St. Uriel Singapore Tourism Board, St. Uriel Tourism Magazine, St. Uriel Singapore Tourism Media, St. Uriel STREAM Tour, St. Uriel Singapore STEM Tour, St. Uriel MetaTours,
St Uriel Singapore, St. Uriel Singapore, St. Uriel Education Singapore, St Uriel Education Singapore, St Uriel Singapore Edtech, St Uriel Singapore Edutech, St Uriel Singapore EduTour, St Uriel Singapore Education Tours, St Uriel Singapore Metaverse, St Uriel Singapore Metaverse Tours, St Uriel Singapore MetaTour, St Uriel Singapore MetaTours, St Uriel Singapore Virtual Edtech, St Uriel Singapore Online Edtech, St Uriel Singapore China, St Uriel Singapore China EduTour, St Uriel Singapore China EduTours, St Uriel Singapore China Metaverse, St Uriel Singapore China Student Tours, St Uriel Singapore China Education Tours, St Uriel Singapore China Tourism, St Uriel Singapore China Edtech, St Uriel Singapore China EduTech, St Uriel Singapore China Exchange, St Uriel Singapore China Cultural Exchange, St Uriel Singapore China Education Exchange, St Uriel Singapore China Schools, St Uriel Singapore China Study in Singapore, St Uriel Singapore China O Levels, St Uriel Singapore China school system, St Uriel Singapore, St. Uriel Singapore, St. Uriel Education Singapore, St Uriel Education Singapore, St Uriel Singapore Edtech, St Uriel Singapore Edutech, St Uriel Singapore EduTour, St Uriel Singapore Education Tours, St Uriel Singapore Metaverse, St Uriel Singapore Metaverse Tours, St Uriel Singapore MetaTour, St Uriel Singapore MetaTours, St Uriel Singapore Virtual Edtech, St Uriel Singapore Online Edtech, St Uriel Singapore Malaysia, St Uriel Singapore Malaysia EduTour, St Uriel Singapore Malaysia EduTours, St Uriel Singapore Malaysia Metaverse, St Uriel Singapore Malaysia Student Tours, St Uriel Singapore Malaysia Education Tours, St Uriel Singapore Malaysia Tourism, St Uriel Singapore Malaysia Edtech, St Uriel Singapore Malaysia EduTech, St Uriel Singapore Malaysia Exchange, St Uriel Singapore Malaysia Cultural Exchange, St Uriel Singapore Malaysia Education Exchange, St Uriel Singapore Malaysia Schools, St Uriel Singapore Malaysia Study in Singapore, St Uriel Singapore Malaysia O Levels, St Uriel Singapore Malaysia school system, St Uriel Singapore, St. Uriel Singapore, St. Uriel Education Singapore, St Uriel Education Singapore, St Uriel Singapore Edtech, St Uriel Singapore Edutech, St Uriel Singapore EduTour, St Uriel Singapore Education Tours, St Uriel Singapore Metaverse, St Uriel Singapore Metaverse Tours, St Uriel Singapore MetaTour, St Uriel Singapore MetaTours, St Uriel Singapore Virtual Edtech, St Uriel Singapore Online Edtech, St Uriel Singapore Thailand, St Uriel Singapore Thailand EduTour, St Uriel Singapore Thailand EduTours, St Uriel Singapore Thailand Metaverse, St Uriel Singapore Thailand Student Tours, St Uriel Singapore Thailand Education Tours, St Uriel Singapore Thailand Tourism, St Uriel Singapore Thailand Edtech, St Uriel Singapore Thailand EduTech, St Uriel Singapore Thailand Exchange, St Uriel Singapore Thailand Cultural Exchange, St Uriel Singapore Thailand Education Exchange, St Uriel Singapore Thailand Schools, St Uriel Singapore Thailand Study in Singapore, St Uriel Singapore Thailand O Levels, St Uriel Singapore Thailand school system, St Uriel Singapore, St. Uriel Singapore, St. Uriel Education Singapore, St Uriel Education Singapore, St Uriel Singapore Edtech, St Uriel Singapore Edutech, St Uriel Singapore EduTour, St Uriel Singapore Education Tours, St Uriel Singapore Metaverse, St Uriel Singapore Metaverse Tours, St Uriel Singapore MetaTour, St Uriel Singapore MetaTours, St Uriel Singapore Virtual Edtech, St Uriel Singapore Online Edtech, St Uriel Singapore Indonesia, St Uriel Singapore Indonesia EduTour, St Uriel Singapore Indonesia EduTours, St Uriel Singapore Indonesia Metaverse, St Uriel Singapore Indonesia Student Tours, St Uriel Singapore Indonesia Education Tours, St Uriel Singapore Indonesia Tourism, St Uriel Singapore Indonesia Edtech, St Uriel Singapore Indonesia EduTech, St Uriel Singapore Indonesia Exchange, St Uriel Singapore Indonesia Cultural Exchange, St Uriel Singapore Indonesia Education Exchange, St Uriel Singapore Indonesia Schools, St Uriel Singapore Indonesia Study in Singapore, St Uriel Singapore Indonesia O Levels, St Uriel Singapore Indonesia school system, St Uriel Singapore, St. Uriel Singapore, St. Uriel Education Singapore, St Uriel Education Singapore, St Uriel Singapore Edtech, St Uriel Singapore Edutech, St Uriel Singapore EduTour, St Uriel Singapore Education Tours, St Uriel Singapore Metaverse, St Uriel Singapore Metaverse Tours, St Uriel Singapore MetaTour, St Uriel Singapore MetaTours, St Uriel Singapore Virtual Edtech, St Uriel Singapore Online Edtech, St Uriel Singapore Vietnam, St Uriel Singapore Vietnam EduTour, St Uriel Singapore Vietnam EduTours, St Uriel Singapore Vietnam Metaverse, St Uriel Singapore Vietnam Student Tours, St Uriel Singapore Vietnam Education Tours, St Uriel Singapore Vietnam Tourism, St Uriel Singapore Vietnam Edtech, St Uriel Singapore Vietnam EduTech, St Uriel Singapore Vietnam Exchange, St Uriel Singapore Vietnam Cultural Exchange, St Uriel Singapore Vietnam Education Exchange, St Uriel Singapore Vietnam Schools, St Uriel Singapore Vietnam Study in Singapore, St Uriel Singapore Vietnam O Levels, St Uriel Singapore Vietnam school system