Ontario Secondary School Diploma (OSSD)
Enabling schools in Asia to improve student admission to top global universities.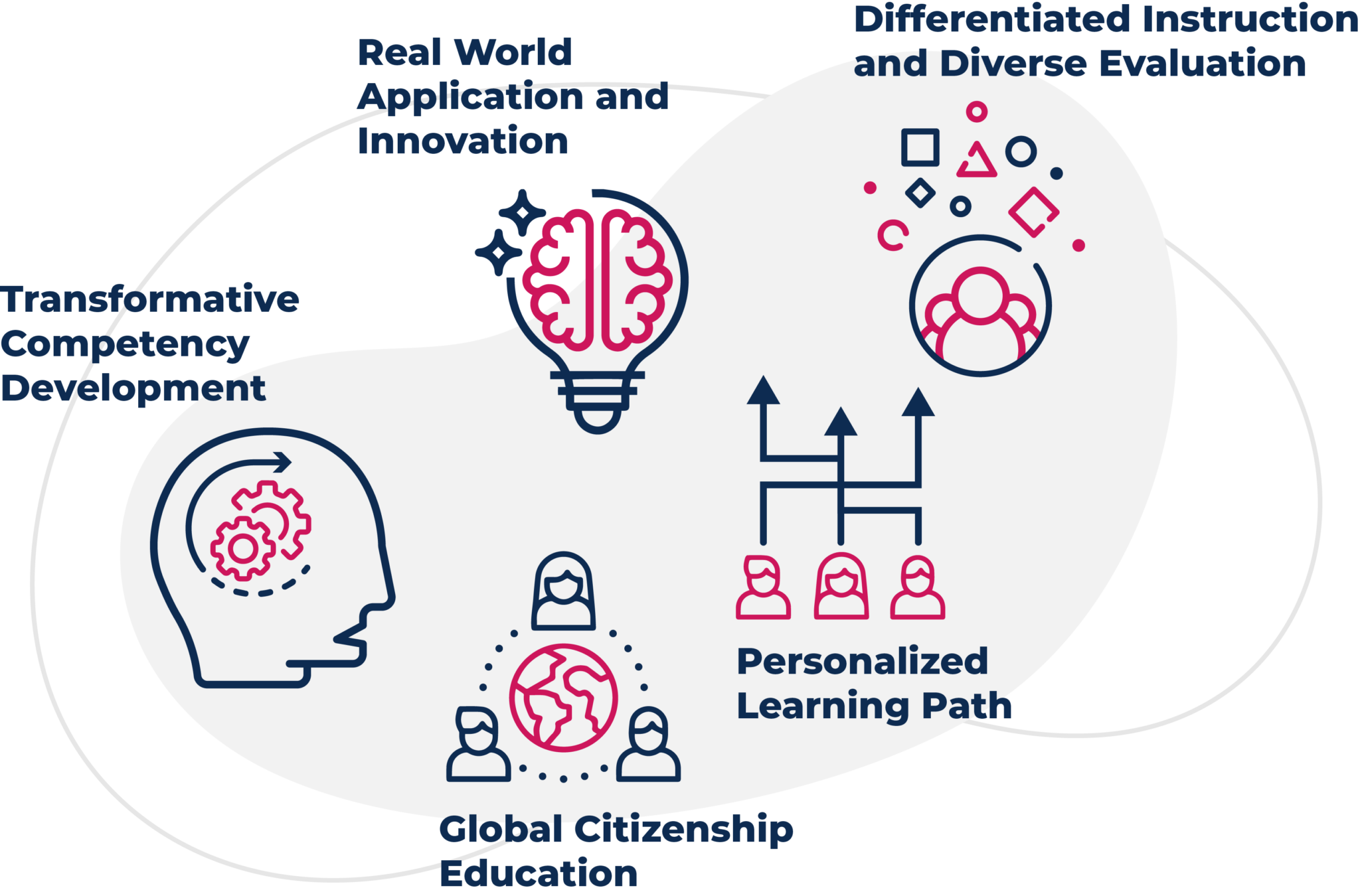 Offer the OSSD for your secondary school, either as a standalone top education system or offer it as a dual-tracked program in conjunction with your existing IB or iGCSE. Be a local partner of the Rosedale Global High School today!
| Available to schools in: | OSSD High School Education |
| --- | --- |
| Singapore, Malaysia & Thailand | Grade 9, Grade 10, Grade 11, Grade 12, Grade 12 "Through-train" OSSD leading to 2nd year of universities. |
The Ontario Secondary School Diploma (OSSD) is a globally recognized credential issued by the Ontario, Canada Ministry of Education. Rosedale Global High School (Rosedale) is licensed by the Ontario Ministry of Education to provide instructional programming to private/international schools that leads to the OSSD and is the largest and most successful provider of the OSSD outside of Canada. As the OSSD distribution and operating school partner of Rosedale, St. Uriel Education (STU) also facilitates in the development of articulation programs and "Through-Train OSSD & degree" courses with recognized universities, enrichment, and co-curricular courses and ESG community service programs.
Rosedale centrally manages the academic administration of the Ontario Secondary School Diploma (OSSD) for Rosedale Global High School from the head office in Toronto, Ontario, Canada. Students attending Rosedale Global High School with an international partner school (eg. your school) register with Rosedale Global High School and are granted an OSSD upon meeting the graduation requirements.
Value added education pathways:
Students at your school taking the Rosedale/OSSD courses will be registered with the Ontario Ministry of Education. This provides students with the opportunity to immigrate to Canada for university work and, if interested, gain residency after graduation. In addition, as students are registered with the Ministry of Education, they are eligible for both Canadian and International scholarship monies if they attend a university in Canada. Certainly, these items are "added value" in obtaining a Rosedale/OSSD diploma in addition to the local high school.
Academic integrity:
Students will be taught in the physical classroom by your teachers, using Rosedale's top curriculum, teaching methods, comprehensive e-learning and teaching resources. All formal assessments are graded in Toronto by certified Ontario Certified Teachers (OCTs) employed by Rosedale. This creates a higher level of academic accountability which greatly helps in the admissions process of world-wide universities.
Differentiated, high quality education:
Different from most programs, such as IB (International Baccalaureate) or Cambridge, each course is built on higher order thinking skills (HOTS). Each course has 15 different modules. Seventy percent of the grade for each course is through formative assessments of these modules while thirty percent of the grade for each course is through summative assessments (the opposite of most international programs).
Due to the fundamentally different instructional design, some of our partner schools offer both a traditional international program (with summative high-stake testing) and the Rosedale program (formative approach as described above). This allows for students/parents to choose the learning style that is best suited for them. In addition, many partner schools run their national secondary program along with the Rosedale OSSD program. As part of this model, Rosedale will review course work taken by a student in their national program and credit it to the completion of the Rosedale/OSSD program.
Award winning, proven success:
In the past two years, Rosedale has won the prestigious PIE award (London-based) and the top Canadian Education Technology Provider award (Canadian-based). Rosedale's Class of 2022 received letters of offer from 14 countries with an average of 3.6 university offers per student. 100% of the students were accepted to global universities.
1. Skill Focus
The OSSD curriculum emphasizes and develops 21st century higher order thinking skills and transformative competencies through curriculum design, evaluation and pedagogical practice. "The goal is to prepare students to solve messy, complex problems—including problems we don't know about—associated with living in a competitive, globally connected, and technologically intensive world." (Ontario Ministry of Education, 21st Century Competencies Discussion Document)
2. Equity and Accessibility
"The Ontario education system is based on a vision of an equitable and inclusive system…where every student is supported and inspired to succeed in a culture of high expectations for learning …"  (Ontario Ministry of Education, Ontario Schools: Policies and Programs).  In fact, Ontario's education motto is "Support Every Child, Reach Every Student."  The OSSD program is able to do this through a flexible system that adapts to individual student interests, strengths, learning styles and goals. Teachers are required to differentiate their instruction and evaluation to meet the needs of the learners so every child has the support they need to succeed.
3. Progressive and Diverse Evaluations
Unlike education programs based on a standardized test model, the OSSD curriculum offers a progressive evaluation model that weighs all term work as a significant portion of a student's final grade. Through this model, students have multiple and diverse opportunities to demonstrate their learning throughout each course. The OSSD evaluation also allows a variety of formats of student work products (projects, case studies, reports, exams and more) in which a student has the ability to, and is required, to demonstrate their learning. The program provides educators the system-level support and flexibility they need to enable differentiated learning and evaluation.
4. Global Recognition
The OSSD is a world-renowned differentiated education program and is consistently evaluated as one of the top education systems in the world by the Program for International Student Assessment (PISA), a triennial international study that evaluates education systems worldwide, from the Organization for Economic Co-operation and Development (OECD). The OSSD is also highly recognized by universities around the world.
Ontario Secondary School Diploma OSSD St. Uriel Education Singapore Thailand Malaysia China Vietnam India Myanmar Lao Cambodia Indonesia highschool universities "Ontario Secondary School Diploma Singapore" "Ontario Secondary School Diploma Malaysia" "Ontario Secondary School Diploma Indonesia" "Ontario Secondary School Diploma Thailand" "Ontario Secondary School Diploma Myanmar" "Ontario Secondary School Diploma Cambodia" "Ontario Secondary School Diploma Laos" "Ontario Secondary School Diploma Vietnam" "Ontario Secondary School Diploma India" "St Uriel Education" "OSSD "St Uriel Education" "OSSD Singapore" "OSSD Malaysia" "OSSD Indonesia" "OSSD Thailand" "OSSD Myanmar" "OSSD Cambodia" "OSSD Laos" "OSSD Vietnam" "OSSD India" "Singapore university" "Singapore high school" "Singapore secondary school" "Singapore education" Ontario Secondary School Diploma OSSD St. Uriel Education Singapore Thailand Malaysia China Vietnam India Myanmar Lao Cambodia Indonesia highschool universities "Ontario Secondary School Diploma Singapore" "Ontario Secondary School Diploma Malaysia" "Ontario Secondary School Diploma Indonesia" "Ontario Secondary School Diploma Thailand" "Ontario Secondary School Diploma Myanmar" "Ontario Secondary School Diploma Cambodia" "Ontario Secondary School Diploma Laos" "Ontario Secondary School Diploma Vietnam" "Ontario Secondary School Diploma India" "St Uriel Education" "OSSD "St Uriel Education" "OSSD Singapore" "OSSD Malaysia" "OSSD Indonesia" "OSSD Thailand" "OSSD Myanmar" "OSSD Cambodia" "OSSD Laos" "OSSD Vietnam" "OSSD India" "Singapore university" "Singapore high school" "Singapore secondary school" "Singapore education" Ontario Secondary School Diploma OSSD St. Uriel Education Singapore Thailand Malaysia China Vietnam India Myanmar Lao Cambodia Indonesia highschool universities "Ontario Secondary School Diploma Singapore" "Ontario Secondary School Diploma Malaysia" "Ontario Secondary School Diploma Indonesia" "Ontario Secondary School Diploma Thailand" "Ontario Secondary School Diploma Myanmar" "Ontario Secondary School Diploma Cambodia" "Ontario Secondary School Diploma Laos" "Ontario Secondary School Diploma Vietnam" "Ontario Secondary School Diploma India" "St Uriel Education" "OSSD "St Uriel Education" "OSSD Singapore" "OSSD Malaysia" "OSSD Indonesia" "OSSD Thailand" "OSSD Myanmar" "OSSD Cambodia" "OSSD Laos" "OSSD Vietnam" "OSSD India" "Singapore university" "Singapore high school" "Singapore secondary school" "Singapore education" Ontario Secondary School Diploma OSSD St. Uriel Education Singapore Thailand Malaysia China Vietnam India Myanmar Lao Cambodia Indonesia highschool universities "Ontario Secondary School Diploma Singapore" "Ontario Secondary School Diploma Malaysia" "Ontario Secondary School Diploma Indonesia" "Ontario Secondary School Diploma Thailand" "Ontario Secondary School Diploma Myanmar" "Ontario Secondary School Diploma Cambodia" "Ontario Secondary School Diploma Laos" "Ontario Secondary School Diploma Vietnam" "Ontario Secondary School Diploma India" "St Uriel Education" "OSSD "St Uriel Education" "OSSD Singapore" "OSSD Malaysia" "OSSD Indonesia" "OSSD Thailand" "OSSD Myanmar" "OSSD Cambodia" "OSSD Laos" "OSSD Vietnam" "OSSD India" "Singapore university" "Singapore high school" "Singapore secondary school" "Singapore education" Ontario Secondary School Diploma OSSD St. Uriel Education Singapore Thailand Malaysia China Vietnam India Myanmar Lao Cambodia Indonesia highschool universities "Ontario Secondary School Diploma Singapore" "Ontario Secondary School Diploma Malaysia" "Ontario Secondary School Diploma Indonesia" "Ontario Secondary School Diploma Thailand" "Ontario Secondary School Diploma Myanmar" "Ontario Secondary School Diploma Cambodia" "Ontario Secondary School Diploma Laos" "Ontario Secondary School Diploma Vietnam" "Ontario Secondary School Diploma India" "St Uriel Education" "OSSD "St Uriel Education" "OSSD Singapore" "OSSD Malaysia" "OSSD Indonesia" "OSSD Thailand" "OSSD Myanmar" "OSSD Cambodia" "OSSD Laos" "OSSD Vietnam" "OSSD India" "Singapore university" "Singapore high school" "Singapore secondary school" "Singapore education" Ontario Secondary School Diploma OSSD St. Uriel Education Singapore Thailand Malaysia China Vietnam India Myanmar Lao Cambodia Indonesia highschool universities "Ontario Secondary School Diploma Singapore" "Ontario Secondary School Diploma Malaysia" "Ontario Secondary School Diploma Indonesia" "Ontario Secondary School Diploma Thailand" "Ontario Secondary School Diploma Myanmar" "Ontario Secondary School Diploma Cambodia" "Ontario Secondary School Diploma Laos" "Ontario Secondary School Diploma Vietnam" "Ontario Secondary School Diploma India" "St Uriel Education" "OSSD "St Uriel Education" "OSSD Singapore" "OSSD Malaysia" "OSSD Indonesia" "OSSD Thailand" "OSSD Myanmar" "OSSD Cambodia" "OSSD Laos" "OSSD Vietnam" "OSSD India" "Singapore university" "Singapore high school" "Singapore secondary school" "Singapore education" Ontario Secondary School Diploma OSSD St. Uriel Education Singapore Thailand Malaysia China Vietnam India Myanmar Lao Cambodia Indonesia highschool universities "Ontario Secondary School Diploma Singapore" "Ontario Secondary School Diploma Malaysia" "Ontario Secondary School Diploma Indonesia" "Ontario Secondary School Diploma Thailand" "Ontario Secondary School Diploma Myanmar" "Ontario Secondary School Diploma Cambodia" "Ontario Secondary School Diploma Laos" "Ontario Secondary School Diploma Vietnam" "Ontario Secondary School Diploma India" "St Uriel Education" "OSSD "St Uriel Education" "OSSD Singapore" "OSSD Malaysia" "OSSD Indonesia" "OSSD Thailand" "OSSD Myanmar" "OSSD Cambodia" "OSSD Laos" "OSSD Vietnam" "OSSD India" "Singapore university" "Singapore high school" "Singapore secondary school" "Singapore education" Ontario Secondary School Diploma OSSD St. Uriel Education Singapore Thailand Malaysia China Vietnam India Myanmar Lao Cambodia Indonesia highschool universities "Ontario Secondary School Diploma Singapore" "Ontario Secondary School Diploma Malaysia" "Ontario Secondary School Diploma Indonesia" "Ontario Secondary School Diploma Thailand" "Ontario Secondary School Diploma Myanmar" "Ontario Secondary School Diploma Cambodia" "Ontario Secondary School Diploma Laos" "Ontario Secondary School Diploma Vietnam" "Ontario Secondary School Diploma India" "St Uriel Education" "OSSD "St Uriel Education" "OSSD Singapore" "OSSD Malaysia" "OSSD Indonesia" "OSSD Thailand" "OSSD Myanmar" "OSSD Cambodia" "OSSD Laos" "OSSD Vietnam" "OSSD India" "Singapore university" "Singapore high school" "Singapore secondary school" "Singapore education" Ontario Secondary School Diploma OSSD St. Uriel Education Singapore Thailand Malaysia China Vietnam India Myanmar Lao Cambodia Indonesia highschool universities "Ontario Secondary School Diploma Singapore" "Ontario Secondary School Diploma Malaysia" "Ontario Secondary School Diploma Indonesia" "Ontario Secondary School Diploma Thailand" "Ontario Secondary School Diploma Myanmar" "Ontario Secondary School Diploma Cambodia" "Ontario Secondary School Diploma Laos" "Ontario Secondary School Diploma Vietnam" "Ontario Secondary School Diploma India" "St Uriel Education" "OSSD "St Uriel Education" "OSSD Singapore" "OSSD Malaysia" "OSSD Indonesia" "OSSD Thailand" "OSSD Myanmar" "OSSD Cambodia" "OSSD Laos" "OSSD Vietnam" "OSSD India" "Singapore university" "Singapore high school" "Singapore secondary school" "Singapore education" Ontario Secondary School Diploma OSSD St. Uriel Education Singapore Thailand Malaysia China Vietnam India Myanmar Lao Cambodia Indonesia highschool universities "Ontario Secondary School Diploma Singapore" "Ontario Secondary School Diploma Malaysia" "Ontario Secondary School Diploma Indonesia" "Ontario Secondary School Diploma Thailand" "Ontario Secondary School Diploma Myanmar" "Ontario Secondary School Diploma Cambodia" "Ontario Secondary School Diploma Laos" "Ontario Secondary School Diploma Vietnam" "Ontario Secondary School Diploma India" "St Uriel Education" "OSSD "St Uriel Education" "OSSD Singapore" "OSSD Malaysia" "OSSD Indonesia" "OSSD Thailand" "OSSD Myanmar" "OSSD Cambodia" "OSSD Laos" "OSSD Vietnam" "OSSD India" "Singapore university" "Singapore high school" "Singapore secondary school" "Singapore education" Ontario Secondary School Diploma OSSD St. Uriel Education Singapore Thailand Malaysia China Vietnam India Myanmar Lao Cambodia Indonesia highschool universities "Ontario Secondary School Diploma Singapore" "Ontario Secondary School Diploma Malaysia" "Ontario Secondary School Diploma Indonesia" "Ontario Secondary School Diploma Thailand" "Ontario Secondary School Diploma Myanmar" "Ontario Secondary School Diploma Cambodia" "Ontario Secondary School Diploma Laos" "Ontario Secondary School Diploma Vietnam" "Ontario Secondary School Diploma India" "St Uriel Education" "OSSD "St Uriel Education" "OSSD Singapore" "OSSD Malaysia" "OSSD Indonesia" "OSSD Thailand" "OSSD Myanmar" "OSSD Cambodia" "OSSD Laos" "OSSD Vietnam" "OSSD India" "Singapore university" "Singapore high school" "Singapore secondary school" "Singapore education" Ontario Secondary School Diploma OSSD St. Uriel Education Singapore Thailand Malaysia China Vietnam India Myanmar Lao Cambodia Indonesia highschool universities "Ontario Secondary School Diploma Singapore" "Ontario Secondary School Diploma Malaysia" "Ontario Secondary School Diploma Indonesia" "Ontario Secondary School Diploma Thailand" "Ontario Secondary School Diploma Myanmar" "Ontario Secondary School Diploma Cambodia" "Ontario Secondary School Diploma Laos" "Ontario Secondary School Diploma Vietnam" "Ontario Secondary School Diploma India" "St Uriel Education" "OSSD "St Uriel Education" "OSSD Singapore" "OSSD Malaysia" "OSSD Indonesia" "OSSD Thailand" "OSSD Myanmar" "OSSD Cambodia" "OSSD Laos" "OSSD Vietnam" "OSSD India" "Singapore university" "Singapore high school" "Singapore secondary school" "Singapore education" Ontario Secondary School Diploma OSSD St. Uriel Education Singapore Thailand Malaysia China Vietnam India Myanmar Lao Cambodia Indonesia highschool universities "Ontario Secondary School Diploma Singapore" "Ontario Secondary School Diploma Malaysia" "Ontario Secondary School Diploma Indonesia" "Ontario Secondary School Diploma Thailand" "Ontario Secondary School Diploma Myanmar" "Ontario Secondary School Diploma Cambodia" "Ontario Secondary School Diploma Laos" "Ontario Secondary School Diploma Vietnam" "Ontario Secondary School Diploma India" "St Uriel Education" "OSSD "St Uriel Education" "OSSD Singapore" "OSSD Malaysia" "OSSD Indonesia" "OSSD Thailand" "OSSD Myanmar" "OSSD Cambodia" "OSSD Laos" "OSSD Vietnam" "OSSD India" "Singapore university" "Singapore high school" "Singapore secondary school" "Singapore education" Ontario Secondary School Diploma OSSD St. Uriel Education Singapore Thailand Malaysia China Vietnam India Myanmar Lao Cambodia Indonesia highschool universities "Ontario Secondary School Diploma Singapore" "Ontario Secondary School Diploma Malaysia" "Ontario Secondary School Diploma Indonesia" "Ontario Secondary School Diploma Thailand" "Ontario Secondary School Diploma Myanmar" "Ontario Secondary School Diploma Cambodia" "Ontario Secondary School Diploma Laos" "Ontario Secondary School Diploma Vietnam" "Ontario Secondary School Diploma India" "St Uriel Education" "OSSD "St Uriel Education" "OSSD Singapore" "OSSD Malaysia" "OSSD Indonesia" "OSSD Thailand" "OSSD Myanmar" "OSSD Cambodia" "OSSD Laos" "OSSD Vietnam" "OSSD India" "Singapore university" "Singapore high school" "Singapore secondary school" "Singapore education" Ontario Secondary School Diploma OSSD St. Uriel Education Singapore Thailand Malaysia China Vietnam India Myanmar Lao Cambodia Indonesia highschool universities "Ontario Secondary School Diploma Singapore" "Ontario Secondary School Diploma Malaysia" "Ontario Secondary School Diploma Indonesia" "Ontario Secondary School Diploma Thailand" "Ontario Secondary School Diploma Myanmar" "Ontario Secondary School Diploma Cambodia" "Ontario Secondary School Diploma Laos" "Ontario Secondary School Diploma Vietnam" "Ontario Secondary School Diploma India" "St Uriel Education" "OSSD "St Uriel Education" "OSSD Singapore" "OSSD Malaysia" "OSSD Indonesia" "OSSD Thailand" "OSSD Myanmar" "OSSD Cambodia" "OSSD Laos" "OSSD Vietnam" "OSSD India" "Singapore university" "Singapore high school" "Singapore secondary school" "Singapore education" Ontario Secondary School Diploma OSSD St. Uriel Education Singapore Thailand Malaysia China Vietnam India Myanmar Lao Cambodia Indonesia highschool universities "Ontario Secondary School Diploma Singapore" "Ontario Secondary School Diploma Malaysia" "Ontario Secondary School Diploma Indonesia" "Ontario Secondary School Diploma Thailand" "Ontario Secondary School Diploma Myanmar" "Ontario Secondary School Diploma Cambodia" "Ontario Secondary School Diploma Laos" "Ontario Secondary School Diploma Vietnam" "Ontario Secondary School Diploma India" "St Uriel Education" "OSSD "St Uriel Education" "OSSD Singapore" "OSSD Malaysia" "OSSD Indonesia" "OSSD Thailand" "OSSD Myanmar" "OSSD Cambodia" "OSSD Laos" "OSSD Vietnam" "OSSD India" "Singapore university" "Singapore high school" "Singapore secondary school" "Singapore education" Ontario Secondary School Diploma OSSD St. Uriel Education Singapore Thailand Malaysia China Vietnam India Myanmar Lao Cambodia Indonesia highschool universities "Ontario Secondary School Diploma Singapore" "Ontario Secondary School Diploma Malaysia" "Ontario Secondary School Diploma Indonesia" "Ontario Secondary School Diploma Thailand" "Ontario Secondary School Diploma Myanmar" "Ontario Secondary School Diploma Cambodia" "Ontario Secondary School Diploma Laos" "Ontario Secondary School Diploma Vietnam" "Ontario Secondary School Diploma India" "St Uriel Education" "OSSD "St Uriel Education" "OSSD Singapore" "OSSD Malaysia" "OSSD Indonesia" "OSSD Thailand" "OSSD Myanmar" "OSSD Cambodia" "OSSD Laos" "OSSD Vietnam" "OSSD India" "Singapore university" "Singapore high school" "Singapore secondary school" "Singapore education" Ontario Secondary School Diploma OSSD St. Uriel Education Singapore Thailand Malaysia China Vietnam India Myanmar Lao Cambodia Indonesia highschool universities "Ontario Secondary School Diploma Singapore" "Ontario Secondary School Diploma Malaysia" "Ontario Secondary School Diploma Indonesia" "Ontario Secondary School Diploma Thailand" "Ontario Secondary School Diploma Myanmar" "Ontario Secondary School Diploma Cambodia" "Ontario Secondary School Diploma Laos" "Ontario Secondary School Diploma Vietnam" "Ontario Secondary School Diploma India" "St Uriel Education" "OSSD "St Uriel Education" "OSSD Singapore" "OSSD Malaysia" "OSSD Indonesia" "OSSD Thailand" "OSSD Myanmar" "OSSD Cambodia" "OSSD Laos" "OSSD Vietnam" "OSSD India" "Singapore university" "Singapore high school" "Singapore secondary school" "Singapore education" Ontario Secondary School Diploma OSSD St. Uriel Education Singapore Thailand Malaysia China Vietnam India Myanmar Lao Cambodia Indonesia highschool universities "Ontario Secondary School Diploma Singapore" "Ontario Secondary School Diploma Malaysia" "Ontario Secondary School Diploma Indonesia" "Ontario Secondary School Diploma Thailand" "Ontario Secondary School Diploma Myanmar" "Ontario Secondary School Diploma Cambodia" "Ontario Secondary School Diploma Laos" "Ontario Secondary School Diploma Vietnam" "Ontario Secondary School Diploma India" "St Uriel Education" "OSSD "St Uriel Education" "OSSD Singapore" "OSSD Malaysia" "OSSD Indonesia" "OSSD Thailand" "OSSD Myanmar" "OSSD Cambodia" "OSSD Laos" "OSSD Vietnam" "OSSD India" "Singapore university" "Singapore high school" "Singapore secondary school" "Singapore education" Ontario Secondary School Diploma OSSD St. Uriel Education Singapore Thailand Malaysia China Vietnam India Myanmar Lao Cambodia Indonesia highschool universities "Ontario Secondary School Diploma Singapore" "Ontario Secondary School Diploma Malaysia" "Ontario Secondary School Diploma Indonesia" "Ontario Secondary School Diploma Thailand" "Ontario Secondary School Diploma Myanmar" "Ontario Secondary School Diploma Cambodia" "Ontario Secondary School Diploma Laos" "Ontario Secondary School Diploma Vietnam" "Ontario Secondary School Diploma India" "St Uriel Education" "OSSD "St Uriel Education" "OSSD Singapore" "OSSD Malaysia" "OSSD Indonesia" "OSSD Thailand" "OSSD Myanmar" "OSSD Cambodia" "OSSD Laos" "OSSD Vietnam" "OSSD India" "Singapore university" "Singapore high school" "Singapore secondary school" "Singapore education"